We are slowly changing our Presencia stranded range over to equivalent cosmo colours as list.
COSMO Size 25 embroidery floss
The most popular Size 25 floss is made out of top grade of cotton, Extra-long staple cotton.
It is soft and has the sheen of silk.
Furthermore, stain at dyeing skills lead us to produce an excellent floss which doesn't discolor so much.
500 color in total
Seasons - we stock the full range of Seasons colours
Gorgeous 140 variegated colors available in "Seasons".
This beautiful variegated Seasons makes a complete color palette with solid Size 25 floss.
COSMO 25 floss with beautiful gradation colors.
Seasons makes a complete color palette with solid COSMO 25 floss.
3 styles with different types of gradation add a wider variety of expressions in your needlework.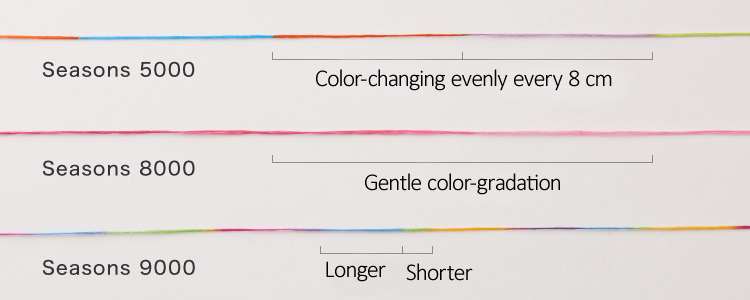 | | |
| --- | --- |
| Material | 100% Cotton |
| Length | 8.75 yard / 8 meter |
| Color | 140 variegated colors |
| Number per box | 6 skeins |
| Strands | 6 |
| Yarn count | 30 cotton, 2 ply |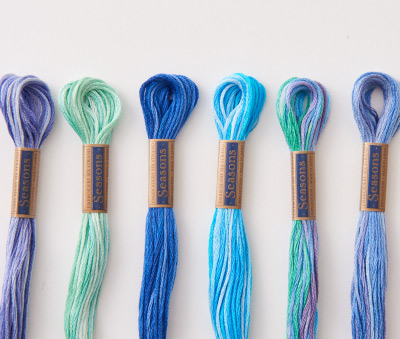 Seasons 5000
【 Feature of Seasons 5000's 】
■Color-changing every 8 cm/3.14 inch
Color-change with easy-to-use length is fun to pick for embroidery as well as non-stitching use.
■Well balanced colorway
Well balanced colorway with gradation in similar color ranges and multi-colored variations makes itself versatile for a wide variety of customers.
■Available in 40 colors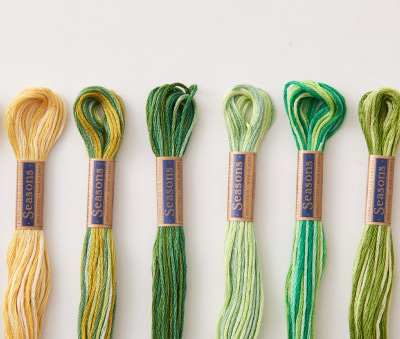 Seasons 8000
【 Feature of Seasons 8000's 】
■Gentle color-gradation
Colors changed every 30 cm/11.81 inch is ideal for full-scale embroidery and large patterns.
■More naturally and beautifully to embroider sceneries of the four seasons
This 8000's,the very first series of Seasons. has a wide range of pink and green colors most frequently selected for seasonal sceneries.
■Available in 80 colors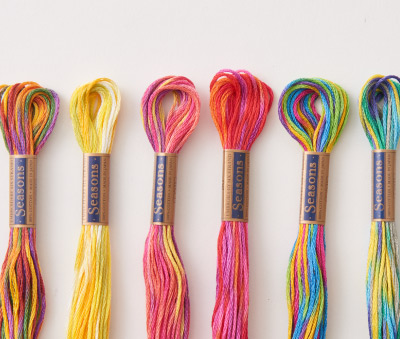 Seasons 9000
【 Feature of Seasons 9000's 】
■Short and random color-pitches
Color-change with random pitches produces dynamic gradation in small motifs.
■Vivid colorway
Eye-catching vivid colorway is also suited for one-point stitching.
■Available in 20 colors
Secrets of Success for COSMO Embroidery Products
Our secret to producing the superior quality embroidery products is our strong commitment to using only the best raw materials and manufacturing prosses, which result in the vivid colors and soft silky textures that you enjoy today!
①Quality Cotton

In order to create the beautiful and strong embroidery products that we are known for, we use only the hightest quality Extra-long staple cotton.

This is known for its strech and durabillity is blended in our own original ratio for the best quality texture and resilience.

Only 1.8% of gross global cotton production is Extra-long staple cotton, we use for COSMO Embroidery Floss.

 

②Elegant Luster

The vivid silky shine of COSMO Embroidery Floss brings out a brighter and eye-catching color.

 

③Long-lasting Elegant Colors

Our expanded collection of 501 colors all resist fading and discoloring due to the advanced craftsmanship of our special processing techniques.

 

④Quality You Can Trust

Thorough our strict inspection and testing processes, our customers are guaranteed to satisfying high quality products.