Quarter Inch offers a quilting service to customers to get those quilt tops finished! We have several allover quilting designs to choose from instore when you drop your quilt off. We can help you choose batting and backing fabrics or you can supply your own. The quilting rates below are based on a square foot. (To calculate the square footage – multiply width by length for total square inches. Divide Total square inches by 144 to give Total square feet.)
Pantograph Cost per Square Foot $4.50 / $5.00 /
$5.50 Thread change or specialty thread fee $5.00
Quilt Loading fee time taken to load quilt on machine $ 25.00 - 30.00
Pressing/Trimming/Squaring Backing $45.00 per hour or part thereof added by quilter if applicable Minimum charge per quilt is $80.00
All prices include GST. Rates include one matching thread and are based on customer supplying backing and batting pressed, trimmed to the correct size. Batting and backing are to be 8 inches longer and wider than quilt top – failure to supply this size will result in less than optimal results. Pieced backings should be pieced with a ½ inch seam allowance, squared and pressed open. Should seam allowances require pressing prior to quilting, threads from back require trimming and/or backing require squaring up prior to quilting the quilter will add the additional charge as listed above. Quilting will generally be completed within 10-14 working days of approval of quotation by customer, for urgent requests please have Quarter Inch staff contact the quilter. Quilt will not be available for pick up until quilting charges have been paid in full.
Our current designs include: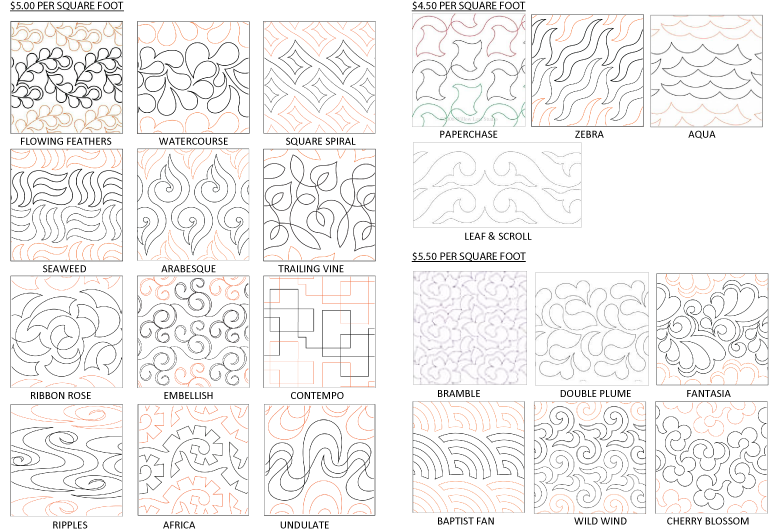 Some tips for preparing your quilt top, batting and backing to prevent extra charges can be seen here:
https://threadworksfactory.com/2017/01/26/how-to-load-a-quilt-on-the-longarm-and-why-your-longarmer-is-so-darn-pesky/
And some more here:
Our Quilter is a very accomplished award winning quilter and we have every confidence she will do the very best she can with your quilt to ensure it is your very own masterpiece, but please be aware if your quilt has any construction/piecing mistakes or flaws there could be an issue with puckering/straightness of your quilt which is out of her control. Sometimes quilts seem flat, but when attached to the machine, and pulled flat, they are not. We can also not guarantee the straightness and position of any pieced backing, as some fabrics stretchmore than others or if they have not been constructed,squared and pressed well. No refunds given on any finished quilt.
Remember:
-Check that all seams are secure. You should stay stitch around your entire quilt to ensure seams do not pull apart approx 1/8" around edge.
- Remove all excess threads as well as pins, buttons and other embellishments. Ric Rac and Lace must be secured around as close to the edges as possible as it can flip over when sewn. Threads not trimmed under light fabrics may shadow through and will be difficult to remove once quilted.
-The quilt top must lay flat. Measure your quilt top across the top, bottom, and at the centre. These three measurements should be the same. If not, or if your borders are wavy there is a possibility that there will be puckers in your finished quilt.
- To reduce wavy borders checkout our Post on adding borders here.
-Quilt must be clean and free of any odours/animal hair.
- Quilt top and backing fabric must be completely pressed. If not there may be creases in your quilt/back. All seams should be pressed flat.
-Batting and backing must be at least 8" larger (wider and longer) than the quilt top and backing must be square.
- Quilt top and backing must be brought in as separate layers - don't sandwich the quilt before - that's what your machine quilter is for.
Following all of the above will give our quilter the best chance of returning a masterpiece to you. Fullness Disclaimer – Fullness and/or puckers within a quilt and its borders cannot be quilted out. We cannot guarantee that puckers and tucks won't be sewn in. In some cases fullness in borders may result in the quilt corners not being square. The flatter your quilt top is, the better the finished quilt will be. Mechanical Disclaimer – Please be aware that sewing machines including
Longarm machines are mechanical devices. Although we do our utmost to ensure perfect results every time, on very rare occasions mechanical problems can occur which may cause minor damage to a quilt top or backing. We will do our very best to remedy the problem. By leaving your quilt with me, you agree with these terms and conditions.